Timeless and priceless, Mykonos ranks high on anyone's travel list for its renown jetset vibe and its international dedicated crowd. But Mykonos is not just about the glam and the celebrity-filled clubs. It's about the white and blue of the Aegean sea, ever apparent in every single corner of this beautiful island. It's about the caring and open-minded residents that have consistently been hosting a wide array of travelers from all over the world. It's about the little secrets everyone should keep to themselves when next visiting.
Enjoy!
1 – Get lost in the white-washed alleys of Chora
The minute you set foot on the island you're taken by its seafront veranda, named as Little Venice, overlooking the remaining Windmills of Mykonos. A colorful array of balconies and window frames painted in starking colors, at the end of ridiculously narrow alleys literarily hanging over the sea.
At the back of this beautiful area lies the church of Paraportiani in the Kastro neighbourhood. Dating back to the 17th century, this complex of 5 whitewashed churches is a great monument but also a perfect backdrop for pictures when the sun is high. As you go past by the old port, you can catch the local grocers and fishmongers showing off their produce along the coastline.
2 – Spend a day at the beach; till late
The island is full of nice organised beaches but most of them are occupied by the glitterati. Yet, there are still gems like Agios Sostis beach in the north where you can just get your towel and catch a spot on the sand. The parking space around is limited but it is definitely worth getting there early – for two reasons: you get the best spot of the beach and you're also first in line when it comes to your lunch at Kiki's.
This hidden spot has been one of the greatest lunch experiences one can have on the island. Simplified to the greatest extent, the small patio tavern runs just a bbq grill (think finger-licking pork chops and chicken thighs), also offering some salads and good ol' house wine. The unique beauty though is with the amazing view to the sea and the warm hospitality of Vasilis and his crew. Just get prepared for a wait cause it normally runs very busy, especially after 1pm. Whilst waiting you may want try a quick dip in the small cove next to Agios Sostis beach.
On a different day, you can also try something more upbeat at Kalo Livadi beach. Still kind of quiet (at least until 2pm or so) that can nicely get combined with a lunch at Spilia seaside restaurant nearby. This restaurant is literarily right on the water, hidden from the busy swim goers around but not that much from those that disembark here with their own tender boat. The food is amazing and tasting sea urchin fresh from the sea is such a unique experience!
If you're looking for more action, then Ftelia beach and Alemagou beach bar is the way to go. Sun daze with the cool kids and delicacies in the form of ceviche and the likes are on offer.
3 – Indulge in a re-invigorating breakfast
Mykonos back in the 90s, when the whole clubbing scene started to emerge, a powerful and reinvigorating late breakfast was a thing. Think refreshing fresh juice mixes, fluffy pancakes, fried eggs and the likes. Now all of this is back! Set in a captivating location atop a hill from Chora, The Liberty Breakfast Room is the best location to kick off your morning routine with some classical music and gorgeous views to the sea!
4 – Spend a whole day at Scorpios
Scorpios by now is almost synonymous to the island, especially after the Soho House group hit the news in spring 2019 announcing that it will be taking a majority interest in the business. Thankfully, Thomas Heyne and Mario Hertel remained in charge of ops, alongside a very solid management and service team. I still remember the first few days of opening when visiting with a friend during the credit crunch in crisis-striken Greece and capital controls. The sky was blue and it was as if you were detached from the hustle of every day reality.
At first, one would expect some sort of pool or beachside action (the waters are not the best around here) to compensate for the midday heat during summer. Regardless, religious fans from all over the world queue up to catch some time at this unique space; especially, right before sunset when things start getting a bit more upbeat. Until then, you can enjoy a comfort food feast by hand of Chef Athinagoras Costakos and his team.
5 – Enjoy the sunset
Kind of on the opposite side of the spectrum, in pure isolation and on a remote edge of the island, you can visit Armenistis Lighthouse. Perched on the edge across the island of Tinos, you can get there by car (15mins from Chora) or a long trek to catch some mesmerizing views away from the crowds. Built in 1891 as a tribute to the rich maritime history of Mykonos and Greece, this establishment emanates an aura from the past.
On your way back, assuming you've worked an appetite for a drink or two, visit the 180 Sunset Bar. Situated in a field right above Chora, this space only operates during sunset hours offering some downtempo music and chilling out drinks.
6 – A loud night out at Astra
Whoever's partied before in Mykonos knows Astra is one of the most authentic places around. This upscale bar is set in one of the most central alleys of the island with a unique outdoors area for the early parts of an evening and a smaller indoors area for after 1-2am. As soon as the music gets louder you'll know it's time to come inside. Gather around, follow the beat and occasionally gaze at the illuminated ceiling.
7 – Traditional Greek feel at Sea Satin tavern
Another classic establishment is that of Sea Satin tavern just beneath the infamous Mykonos Windmills. Originally opened in the 80s, this open-air taverna is the traditional Greek setting anyone would expect. As you walk in, you're immediately taken by the colorful flowers on the tabletops and the fresh produce, vegetables and seafood mainly, set in a beautiful array in a typical Greek agora setting.
The music gets loud and turns into a middle-eastern vibe around midnight when patrons start dancing around (some on the tabel themselves). Just make sure you're prepared!
8 – Back to the 90s
If you're looking to get back in time and visit a more frivolous Mykonos, head towards Mplintri to find Super Paradise beach and Jackie O restaurant. Back in the days, this beach was far more remote than any other one and the main transportation route was with small fisherman boats from Platy Gialos. Although these still run frequently on a daily basis, you can get there by car in less than 20mins from Chora. Both of them appeal to a more focused clientele, including the LBGT community and nudists, that is there primarily to have fun in a loud music backdrop where anything goes!
Renowned Chef Christoforos Peskias took charge of the kitchen at Jackie O back in 2016 and ever since the restaurant has become even more popular. The shows at Super Paradise beach are indeed eventful (I'll spare you the details); the one thing though that Super Paradise beach is also known for is its waters. Crystal clear turquoise waters ready for those who are up for a cold challenge!
9 – Off the beaten path
When you feel like taking a break from the frenzy, head towards Fokos beach or Kapari beach, both of which are still not organised and not occupied by umbrellas and beachbeds. Waters are a bit better at Fokos, although you need to check the wind report before getting there as it is kind of a long (and rough) trek. Armenistis Lighthouse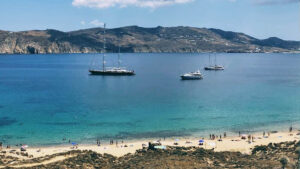 10 – A cruise around Rhenia and Delos Finally, on the odd day out you must visit nearby islets, Rhenia and Delos. There are numerous boats offering tours to Delos, although to get to Rhenia you'll probably need to hire a private one. The beaches there are amazing so it's definitely worth it – some are even offering complimentary lunch baskets. Just make sure you check the price (and wind report) first!
Lovegreece X Travel Food People is the first collaboration on "The Lovegreece Life" our new lifestyle platform. Travel Food People is a like-minded travel experience brand that will share with us their expert cool knowledge about Greece and first-hand experiences and people that need to be presented under the Lovegreece light.
Checkout the full content of Trave Food People here.